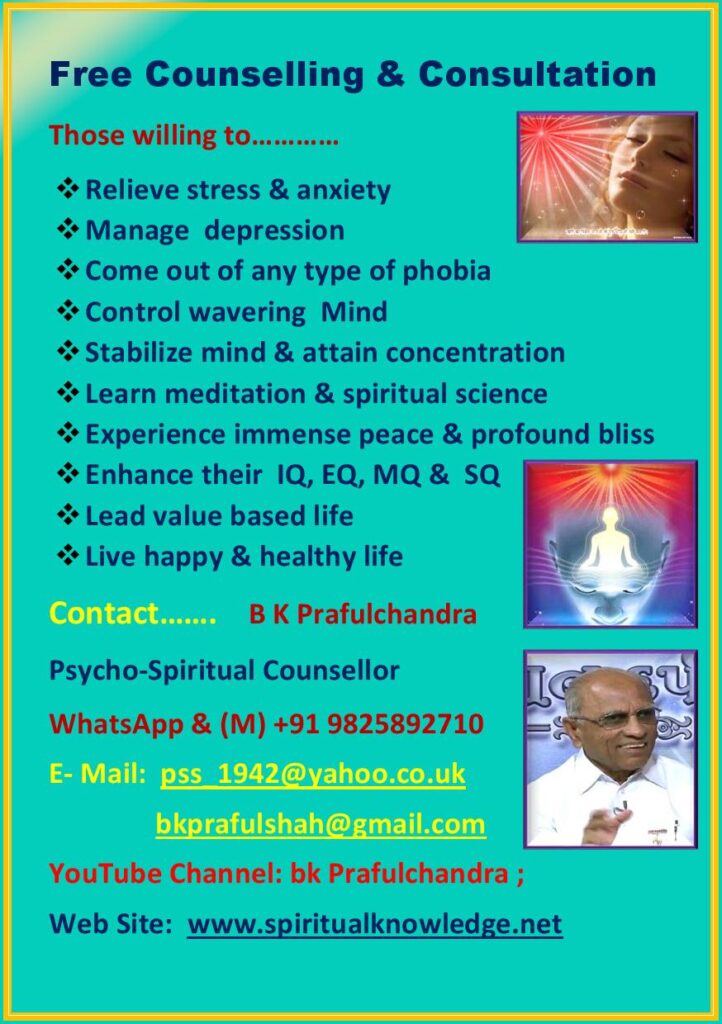 B K Prafulchandra Shah
Retired Professor & Head of Mechanical Engineering Department, D. D. Institute of Technology, Nadiad, Gujarat, India.
Educational Qualification : M. Tech. from Indian Institute of Technology, Kanpur, India
Associated with Brahmakumaris since 1974.
Field of Interest : Spiritual Science, Yoga & Meditation, Psychology & Parapsychology, Holistic Health.
Good knowledge of Alternative Systems of Medicines and experienced Therapist especially in Meditation therapy, Psychotherapy, Yogasan & Pranayam therapy, Acupressure, Electrotherapy, Polarity Experience, Diet & Water Therapy.
Written several articles which have been published in diff. news papers, periodicals & magazines.
Given several talk show programs on Radios & TV Chanels like ETv Gujarati, Peace of Mind of Brahmakumaries, GTPL Bhakti, GTPL News.
Experience of conducting & coordinating lectures, camps & courses like:
Short – term course on

Stress Free Living # Anger Free Life
Mind Power Development # Emotional Intelligence
Project Positive Change # Personality Development
Human Re-engineering # Art of Learning
Art Of Living Happy & Healthy Family Life

Workshop on

Ego Management
Goal Setting
Key to Success
Memory Improvement
Thought Management
Positive Mind Management

Talk on

Moral Values In Engineering Profession
Value Education & Values In Education
True Spiritual Perception – Call of Time/Need of the Day
Relationship Management and Conflict Resolution